(Copyright: Gunnar Mæhlum)
The historic ASIM-launch
by Kavitha Østgaard
(English version: Arve Aksnes)
It is a sunny and humid day in Cocoa Beach, Florida. Almost no wind. According to the Weather Channel, a perfect day for a rocket launch! Already around 0830 the engineers from BCSS (Professor Kjetil Ullaland and Senior Engineer Georgi Genov) are ready for the drive to Kennedy Space Center (KSC). Only 30 minutes by car. Nice! Senior Adviser Olaf E. Gundersen from the Communication Division at the University of Bergen (UiB) also joins our excited group!  On another note, the VIP-people, including UiB-rector Dag Rune Olsen and BCSS Centre Leader Nikolai Østgaard were picked up earlier this morning, to be given a guided tour at the launch site.
It turns out we were pretty smart coming to KSC early. When approcahing the parking lot we realize that there are more than 100 cars ahead of us.
(from left/middle: Olaf Gundersen from Communication Division at UiB, BCSS Senior Engineer Georgi Genov, Monika Ullaland, and BCSS Professor Kjetil Ullaland)
Luckily we can break away from the Disneyworld-craving crowd – as we are "special guests" and treated accordingly ;).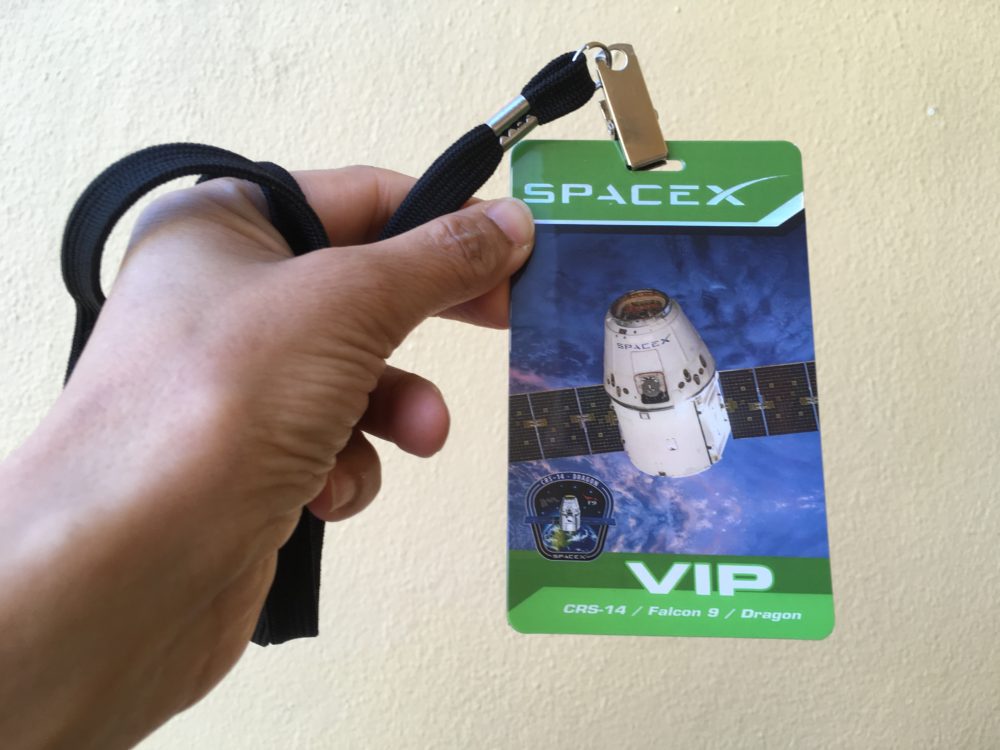 It is long to wait until 1430 when we will be picked up by a bus to be transported to the launch site.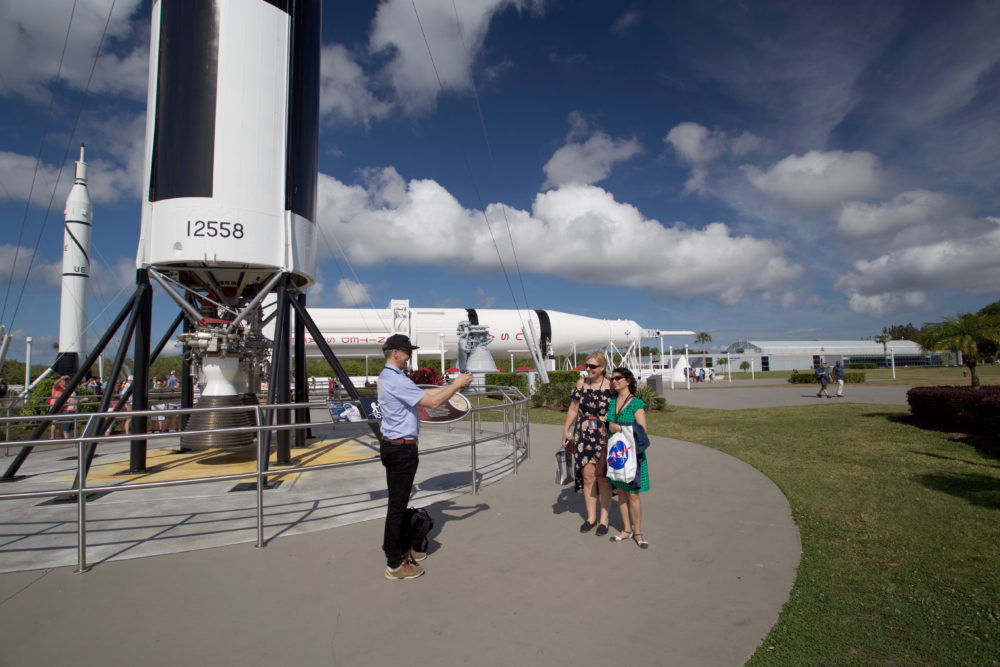 We therefore choose to visit one exhibition, namely the Atlantis Shuttle Experience. It is SO exciting! Probably because we are able to physically touch a spaceship that has been in space.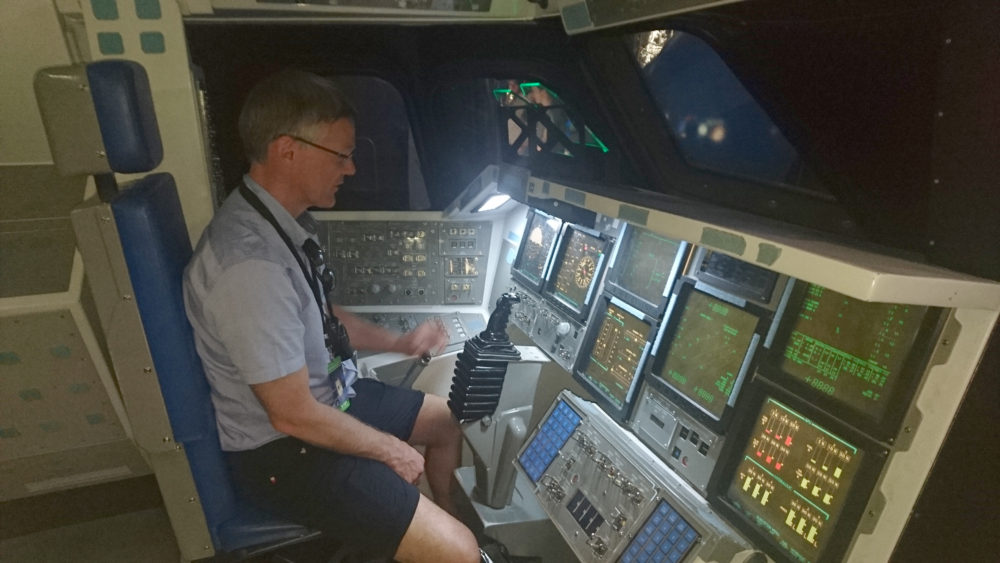 Kjetil and Georgi want to try the Flight Simulator. The rest of us have objections (of course), but unfortunately the little children in the long line literally scream "wimps" towards us, meaning we have to attend as well. We end up in a capsule together with approx. 30 other people. The seats are put in start position, and we are ready for take-off. Georgi says he wants to know exactly what the ASIM-instrument experiences during launch. Now we know!
All the shaking has stimulated our appetite. We leave the visitor complex and find ourselves with thousands of food stands that sell – yes, you guessed it – burgers and hot dogs. We only have to wait 30 minutes before we can purchase our life-saving food, and that means we are ready to enter the bus as the food arrives in our hands.
On the way to the launch site, we find ourselves surrounded by beautiful nature. There are herons along small streams and eagles in the pines around us. On the bus, we meet representatives from the different nations contributing to ASIM and possibly other projects that are to be shipped to ISS. The bus drives past a large building (VAB = Vehicle Assembly Building) before it stops in front of a low building that turns out to be our final stop.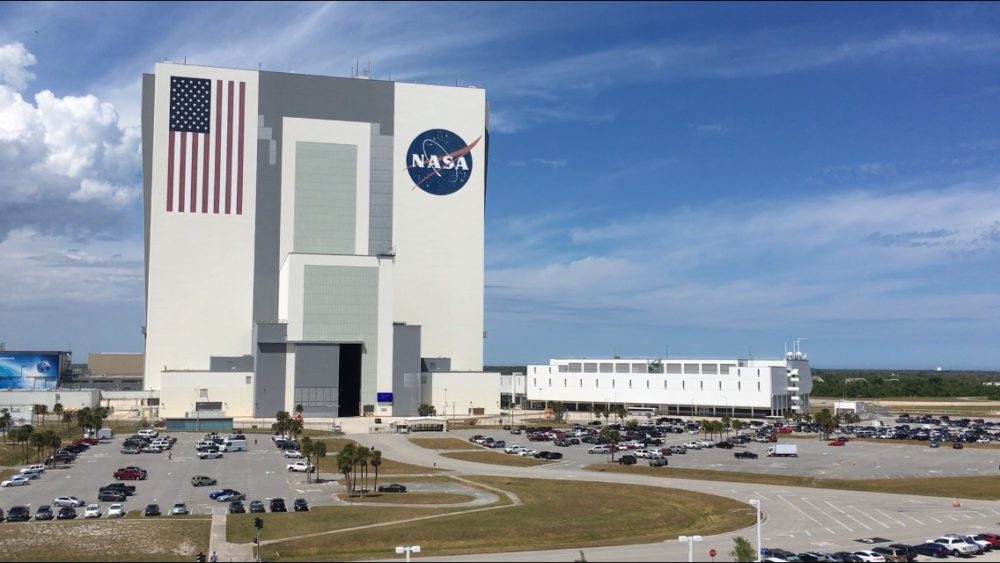 Dozens of volunteers work hard to make sure that all the guests are ready for today's big event.
In a big hall where all the guests are gathered, there is a kind of pre-launch briefing. Representatives from NASA explain what kinds of scientific projects are onboard (in addition to ASIM), we are told which congressional members have provided money for the projects, and a guy from SpaceX also explains in detail what will happen during the launch. In addition we have to "suffer" through a heartbreaking version of the American anthem, where a soprano voice makes body parts vibrate. That's life I guess…
Finally we enter the terrace and wait. Where will the launch take place? We can see several towers around us, and we need Centre leader Nikolai Østgaard to point out the chosen one.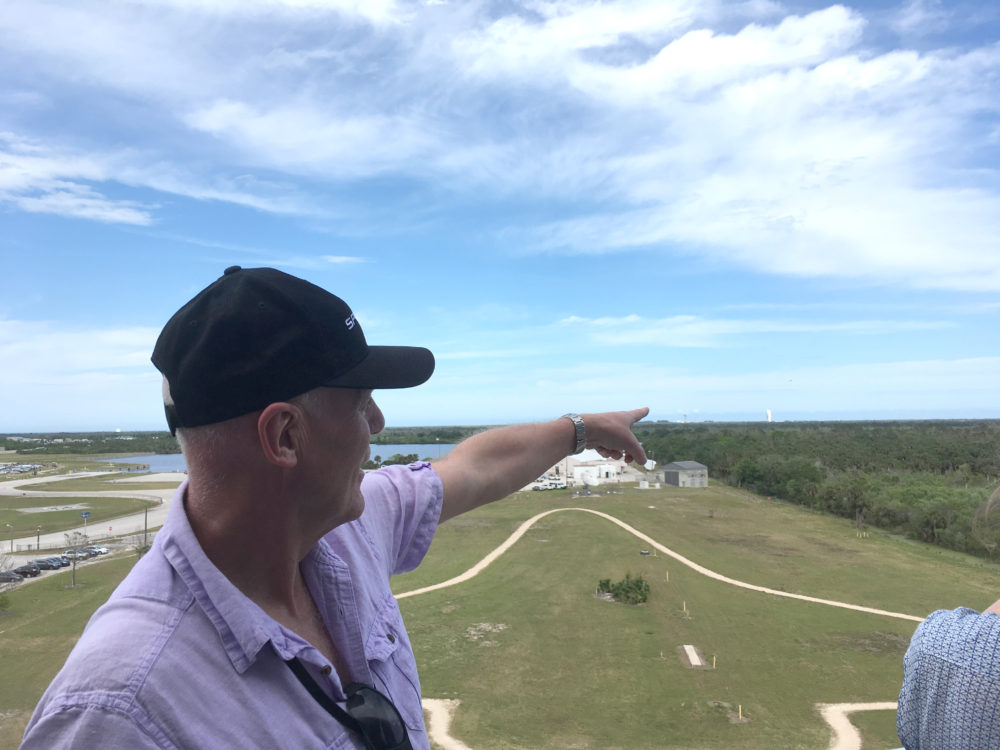 Around T-minus 5 minutes the small talk dwindles away. Then the countdown starts. Everyone is silent; the only sound we can hear is the voice from the loudspeaker. They have told us several times that this is not the time for either selfie-rods or expensive cameras – now it is time to just feel and see the launch with our senses. It will be a once-in-a-lifetime-experience! Everything happens in slow-motion. But suddenly the rockets accelerates upward and you feel all these vibrations in the body. All faces are staring at the sky with childlike pleasure.
A "iiiiiha" breaks the silence and you can hear laughter filled with relief from the people around you. Now it's time to congratulate each other and take a break until the next stage, when the instrument will start doing its job observing gamma-ray flashes.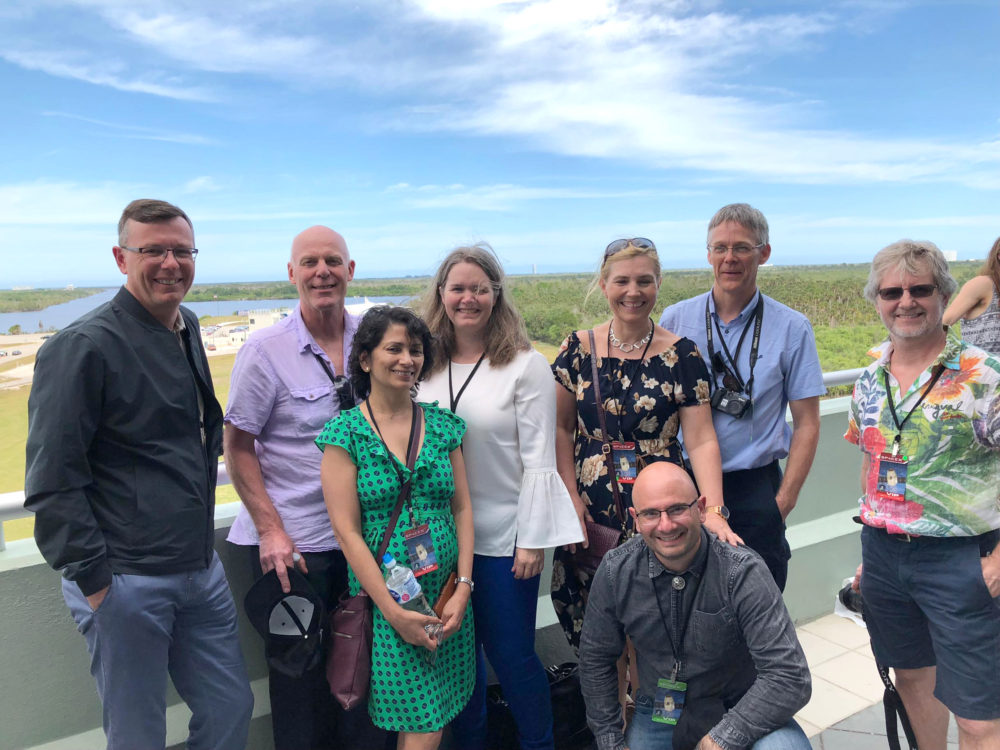 (from left): Rector Dag Rune Olsen, Nikolai and Kavitha Østgaard, Marianne Vinje Tantillo (Norwegian Space Center), Monika and Kjetil Ullaland, Georgi Genov (sitting in front) and Gunnar Maehlum (CEO, IDEAS).