On February 22th 2021, the paper (Zhang et al., 2021) of the first observations of a space hurricane was published in Nature Communications. The groundbreaking result has caused lots of media coverage all over the world, and a complete media list may be found by scrolling down on this page.
Co-author and professor at the Birkeland Centre for Space Science, Kjellmar Oksavik, has played an important role in the new and remarkable findings, and here is a link to the local newspaper Vestlandsnytt from Fosnavåg, Norway, celebrating their local hero: "Kjellmar frå Fosnavåg oppdaga rom-orkan" (in Norwegian).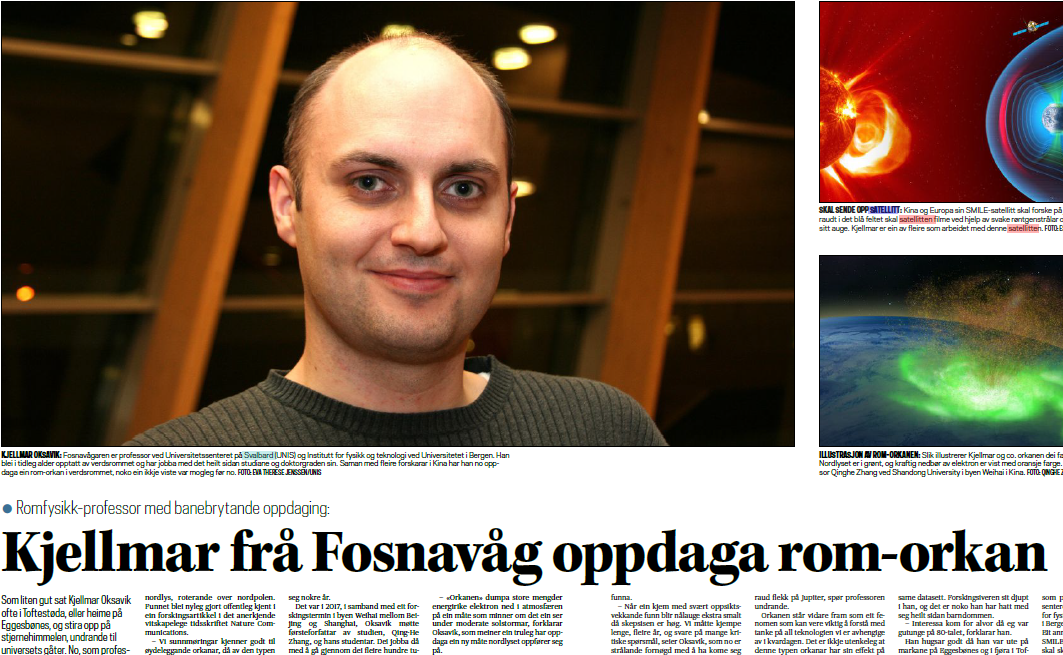 Link to a great article in National Geographic entitled "Scientists spot a 'space hurricane' for the first time".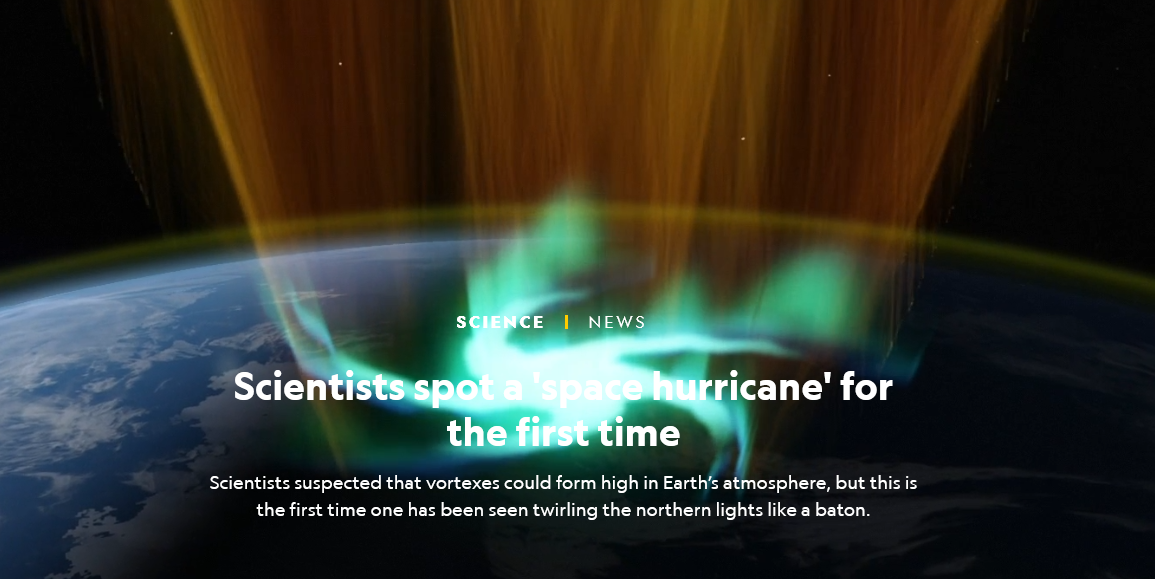 Link to a Norwegian radio interview (NRK P2), where Kjellmar Oksavik explains the space hurricane in more detail.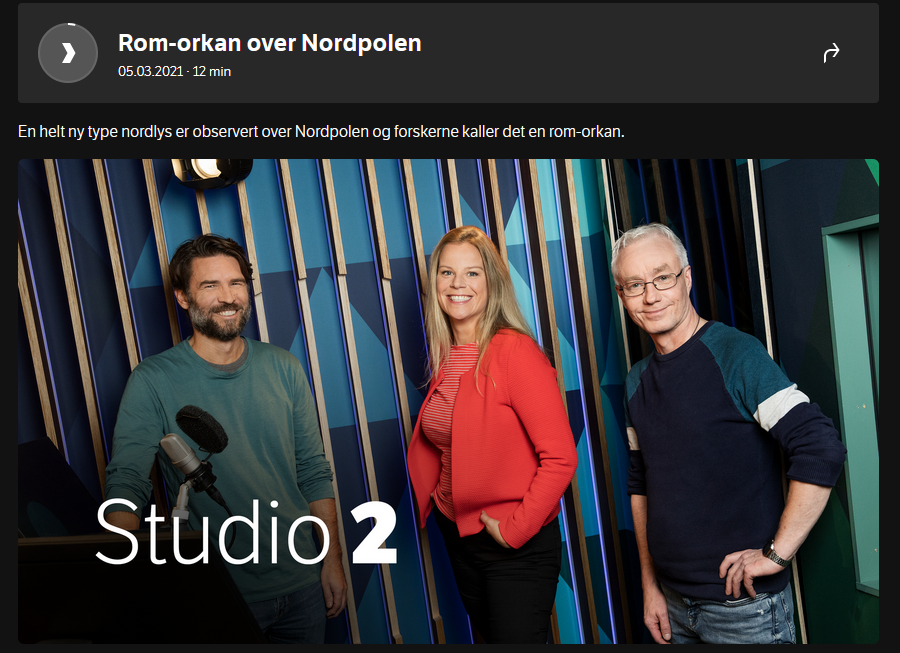 Below is a link to an article in the Norwegian newspaper Dagbladet entitled (in Norwegian):
"Oppdaget rom-orkan"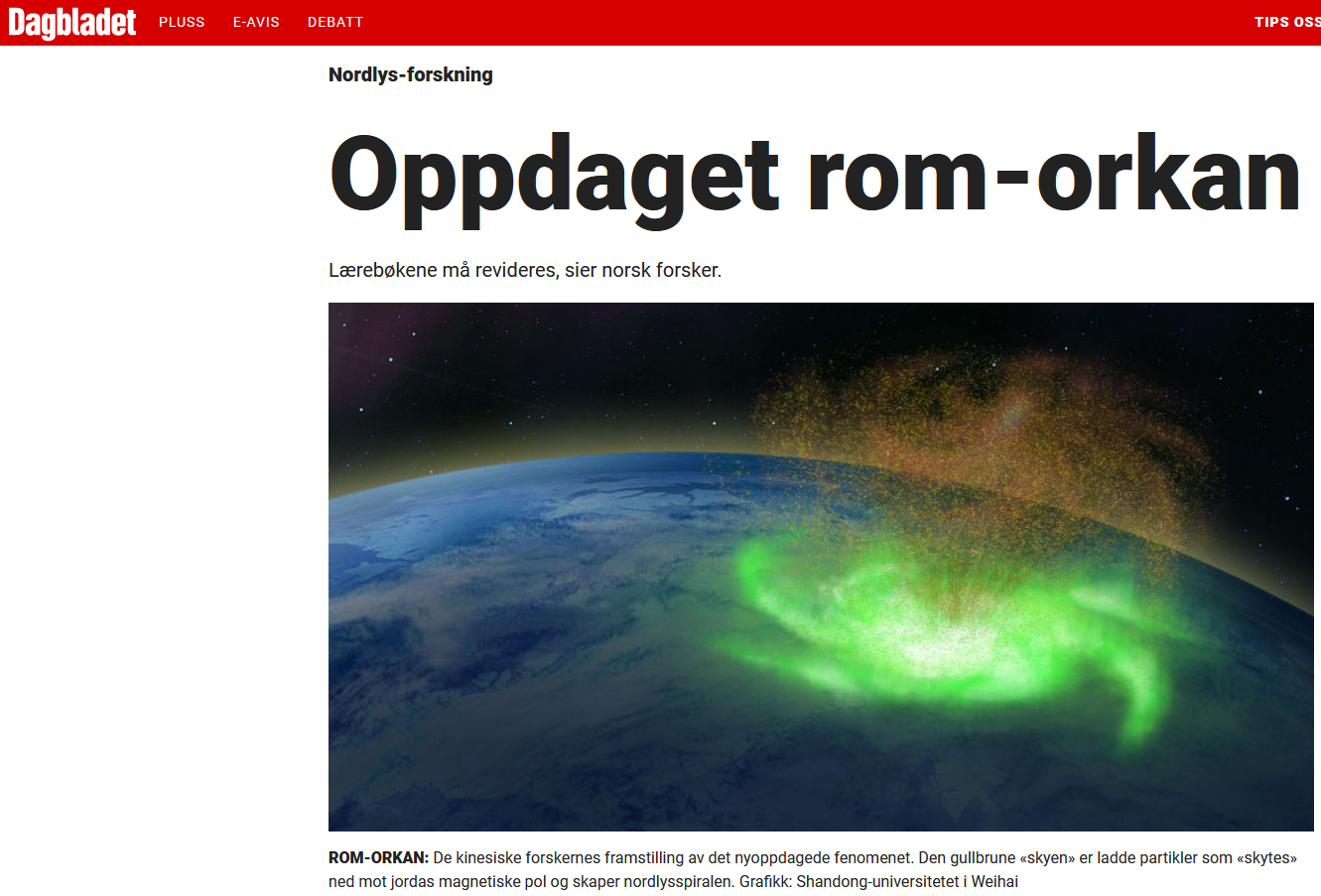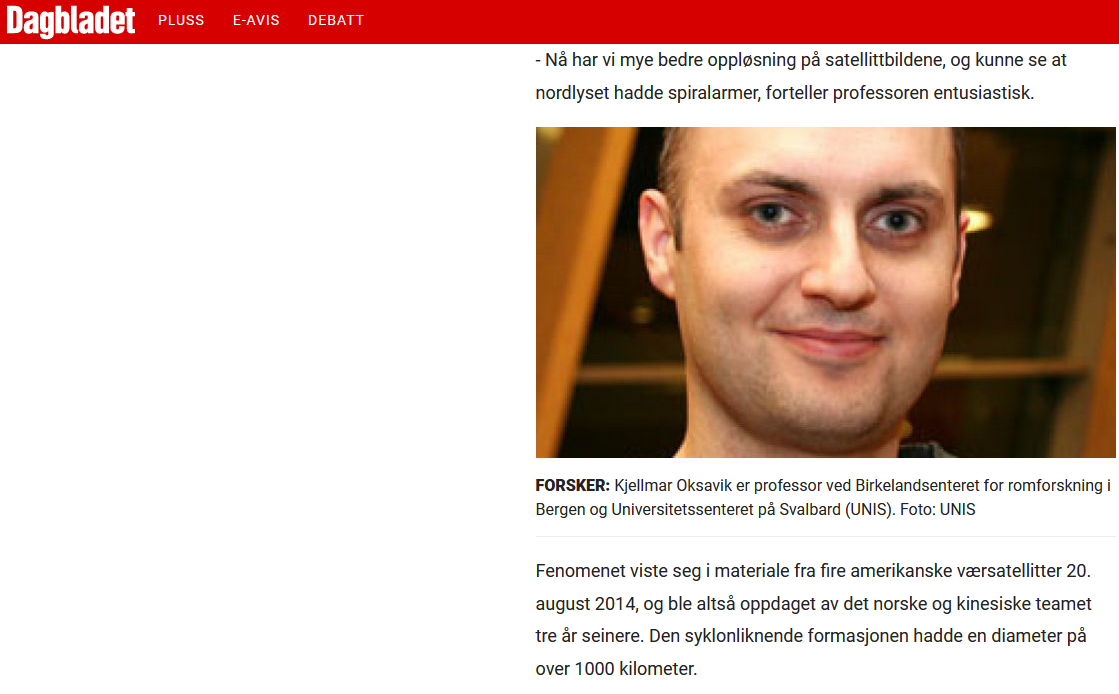 (379) National Geographic: "Scientists spot a 'space hurricane' for the first time"
(378) Physics World: "Space hurricane observed in the Earth's upper atmosphere"
(377) Astronomy: "Space hurricane of plasma spotted above Earth's North Pole"
(376) Houston Chronicle: "Gigantic space hurricane with 4,000 mph winds stalled above Earth, new research shows"
(375) International Business Insider: "What Is A Space Hurricane? Scientists Explain Existence Of The Phenomenon"
(374) Weatherology: "Space Hurricane"
(373) MSN: "Toutes premières preuves d'un « ouragan spatial »"
(372) Axios: "Scientists observe first-ever "space hurricane" above Earth"
(371) BBC: "Space hurricane spotted above the North pole"
(368) NBC News: "'Space hurricane' that rained electrons observed for the first time"
(367) Universe Today: "Earth's Atmosphere Can Generate a "Space Hurricane""
(366) Independent: "Space hurricane which rains electrons instead of water discovered by scientists"
(365) Phys.org: "Space hurricane observed for the first time"
(364) Fox News: "'Space hurricane' seen in Earth's upper atmosphere for first time"
(363) Vestlandsnytt: "Kjellmar frå Fosnavåg oppdaga rom-orkan"
(362) Miami Herald: "The first observations of a space hurricane have been revealed in Earth's upper atmosphere"
(360) The Science Times: "First Ever Space Hurricane With 621-Mile Mass of Swirling Plasma Confirmed"
(359) Washington News Post: "'Space hurricane' seen in Earth's upper atmosphere for first time"
(358) The Debrief: "Space Hurricanes Confirmed by Scientists Studying Mysterious Plasma Phenomena"
(357) Gentside: "Space Hurricanes Are a Thing—the North Pole Just Recorded Its First Ever"
(356) Mysterious Universe: "First Ever Space Hurricane Witnessed Above the North Pole"
(355) International Business Times: "This Space Hurricane Rained Down Electrons Instead of Water above North Pole"
(354) Local21News: "Years-old 'space hurricane' spotted for the first time"
(353) Bollyinside: "First 'space hurricane' detected over the North Pole"
(352) Report Door: "'Space hurricane' spotted above Earth for the first time ever"
(351) News784: "First space hurricane is confirmed over the North Pole"
(350) AM1100Theflag: "Scientists Spot "Space Hurricane" Over North Pole"
(349) 69News: "A space hurricane and a glow-in-the-dark shark: here's what's trending in space and science"
(348) 10WJAR: "Years-old 'space hurricane' spotted for the first time"
(347) Fox29: "Scientists discover space hurricane above the North Pole"
(346) The Informer: "Scientists discover 'space hurricane' above Earth"
(345) Business Insider: "Scientists spotted a 'space hurricane' swirling above the magnetic north pole. It was raining charged solar particles."
(344) The Cosmic Companion: "Space Hurricane Seen for First Time"
(343) Slashdot: "Space Hurricane Seen Above Magnetic North Pole Was Raining Electrons"
(342) Newswise: "Space hurricane observed for the first time"
(341) jioforme: "The first "space hurricane" detected over the Arctic"
(340) Shandong University: "Prof. Zhang Qinghe's Research Group Found the First Known Space Hurricane Poured Electron Rain"
(339) JagranJosh: "All about the Space Hurricane spotted over North Pole"
(338) Insights on India: "What is space hurricane?"
(336) The Mary Sue: "This Week In Space: It's a SPACE HURRICANE!"
(335) Medium: "Lava and Volcano Planets, and a Space Hurricane"
(334) NewsChain: "Scientists Detect Space Hurricane Swirling Over North Pole"
(333) The newt web: "The first-ever 'space hurricane' has been spotted above Earth"
(332) Hebergementwebs: "A space hurricane detected over the North Pole"
(331) Freethink: "Space Hurricane Rains Electrons Down on North Pole"
(330) Acast: "Space Hurricane"
(329) The Nation: "Space hurricane observed for first time"
(328) SpectrumNewsNY1: "Large "Space Hurricane" Observed Above The North Pole"
(327) Deseret: "A space hurricane rained electrons over the North Pole"
(326) Nature World News: "'Space Hurricane' Detected Flying Above North Pole for the First Time in History"
(325) digg: "Scientists spot a 'space hurricane' for the first time"
(324) DigitPatrox: "Scientists Discover 'Space Hurricane' High Above The Earth"
(323) India News Republic: "University of Reading: First Observed Space Hurricane – Education, Education News in India India, Education News"
(322) Saxon: "First evidence of a "space hurricane" – the weather network"
(321) Hayat News: "Space Hurricane: Cyclonic storm visible in space above the north pole, crisis on earth due to strong 'rain'"
(320) NavbharatTimes: "Space Hurricane: उत्‍तरी ध्रुव के ऊपर में अंतरिक्ष में दिख रहा चक्रवाती तूफान, जोरदार 'बारिश' से धरती पर संकट"
(319) Daily Advent: "Scientists confirm a 'space hurricane' hovered above the North Pole for about 8 hours"
(317) blog.studyiq: "What is Space Hurricane?"
(316) Flipboard: "Scientists spot a 'space hurricane' for the first time"
(314) NewsBeezer: "'Space hurricane' that rained electrons for the first time"
(313) Al Jazeera: "تهدد الاتصالات والأقمار الصناعية.. أعاصير من البلازما تعصف بالغلاف الجوي العلوي للأرض"
(312) The Scotsman: "'Space hurricanes' have been discovered by scientists – everything you need to know"
(311) FR24News: "Scientists have spotted a swirling "space hurricane" above the magnetic north pole. It was raining charged solar particles."
(310) HuffPost: "Scientists Discover 'Space Hurricane' High Above The Earth"
(309) USAHerald: "Yes, there are Space Hurricanes, and They Rain Electrons!"
(308) SciTechDaily: "Space Hurricane Observed Over the Earth for the First Time"
(307) FrankfurterRundschau: "Weltraum-Hurrikan über magnetischem Nordpol entdeckt: Wirbel lässt Solar-Teilchen regnen"
(306) Kepuchina: "中国科学家首次发现"太空台风""
(305) KentOnline: "Proving existence of space hurricanes 'is incredible', says scientist"
(304) Novaator: "Kõrgel taevas möllas kosmiline orkaan"
(303) Yahoo!news: "Proving existence of space hurricanes 'is incredible', says scientist"
(302) TheCourier: "Proving existence of space hurricanes 'is incredible', says scientist"
(301) ThisIsTheWestCountry: "Proving existence of space hurricanes 'is incredible', says scientist"
(300) Daily Echo: "Proving existence of space hurricanes 'is incredible', says scientist"
(299) Hereford Times: "Proving existence of space hurricanes 'is incredible', says scientist"
(298) The Northern Echo: "Proving existence of space hurricanes 'is incredible', says scientist"
(297) Bracknell News: "Proving existence of space hurricanes 'is incredible', says scientist"
(296) The National: "Proving existence of space hurricanes 'is incredible', says scientist"
(295) TheWestmorlandGazette: "Proving existence of space hurricanes 'is incredible', says scientist"
(294) The Whitehaven News: "Proving existence of space hurricanes 'is incredible', says scientist"
(292) BrideportNews: "Proving existence of space hurricanes 'is incredible', says scientist"
(291) BridgewaterMercury: "Proving existence of space hurricanes 'is incredible', says scientist"
(290) ThisIsLocalLondon: "Proving existence of space hurricanes 'is incredible', says scientist"
(289) Braintree&WithamTimes: "Proving existence of space hurricanes 'is incredible', says scientist"
(288) ThePress: "Proving existence of space hurricanes 'is incredible', says scientist"
(287) BlomsgroveAdvertiser: "Proving existence of space hurricanes 'is incredible', says scientist"
(286) Winsford-and-Middlewich Guardian: "Proving existence of space hurricanes 'is incredible', says scientist"
(285) Wandsworth Times: "Proving existence of space hurricanes 'is incredible', says scientist"
(284) Guardian: "Proving existence of space hurricanes 'is incredible', says scientist"
(283) breakingnews: "Proving existence of space hurricanes 'is incredible', says scientist"
(281) MSN: "Scientists confirm existence of space hurricanes"
(280) Sputnik: "Scientists Observe First Known Space Hurricane Above Earth"
(279) RTonline: "تأكيد أول إعصار فضائي فوق القطب الشمالي!"
(278) News21BY: "Космические ураганы заметили в атмосфере Земли"
(277) SOTT: "Cosmic climate change: 'Space plasma hurricane' observed in ionosphere above North Pole!"
(275) Futurism: "Scientists Observe Eight-Hour "Space Plasma Hurricane""
(274) ScienceNewsNet: "Space hurricane observed for the first time"
(273) dailyhunt: "Scientists Confirm Existence Of Space Hurricanes For The First Time In Earth's Atmosphere"
(271) Heute: "Forscher entdecken gewaltiges Phänomen über der Erde"
(270) Statesman Journal: "A 'space hurricane' hovered above the North Pole for about 8 hours, study says"
(266) Milwaukee Journal Sentinel: "A 'space hurricane' hovered above the North Pole for about 8 hours, study says"
(265) Greenville News: "A 'space hurricane' hovered above the North Pole for about 8 hours, study says"
(263) Tiempo: "Registran por primera vez huracán espacial sobre Ártico"
(262) Esquire: "C'è un "uragano spaziale" sopra il Polo Nord, ecco cos'è"
(261) Lancashire Post: "'Space hurricanes' have been discovered by scientists – everything you need to know"
(260) Mid Sussex Times: "'Space hurricanes' have been discovered by scientists – everything you need to know"
(259) Bognor Regis Observer: "'Space hurricanes' have been discovered by scientists – everything you need to know"
(258) Chorley-Guardian: "'Space hurricanes' have been discovered by scientists – everything you need to know"
(257) News18: "Space Hurricane Which Rains Electrons Instead of Water Detected Over North Pole. It Lasted for 8 Hours"
(256) dailyhunt: "Space hurricane in 2014 'rained electrons' from a plasma cyclone in the upper atmosphere: Study"
(255) Focus: "Po raz pierwszy w historii zaobserwowano "kosmiczny" huragan"
(253) FuturaSciences: "Un ouragan spatial a été observé pour la première fois !"
(252) Yahoo!actualites: "C'est le premier ouragan spatial jamais observé !"
(251) Free: "Un ouragan spatial a été observé pour la première fois !"
(250) SCIENMAG: "

Space hurricane observed for the first time

"
(249) Zero Hedge: ""Space Hurricane" Spotted Above North Pole, Study Finds "
(247) BusinessInsider India: "Scientists spotted a 'space hurricane' swirling above the magnetic north pole. It was raining charged solar particles."
(246) Rocket News: "Scientists spotted a 'space hurricane' swirling above the magnetic north pole. It was raining charged solar particles."
(245) BusinessInsider Nederland: "Scientists spotted a 'space hurricane' swirling above the magnetic north pole. It was raining charged solar particles."
(239) LaVanguardia: "La impresionante primera imagen de un huracán espacial en la Tierra"
(238) The Herald Sun: "Huge space hurricane that spun over North Pole years ago just found. How'd we miss it?"
(237) Tekniikka&Talous: "Ensimmäinen "avaruushurrikaani" koskaan löytyi 800 km pohjoisnavan yltä – Magneettinen pyörremyrsky, jossa elektronituuli jopa 7 600 000 km/h"
(236) Yahoo!actualites: "Les scientifiques ont repéré un 'ouragan spatial' tourbillonnant au-dessus du pôle nord magnétique"
(235) MSN: "El primer 'huracán espacial' sobre el Polo Norte magnético: así fue esta impresionante lluvia de partículas solares"
(234) Latestly: "Space Hurricane Spotted for the First Time Whirling Over North Pole, How Is It Different From the Hurricanes on Earth? All You Need to Know"
(233) HeadTopics: "'Space hurricane' that rained electrons observed for the first time"
(232) Yahoo!life: "Space Hurricanes Are Now Part of Life's Grand Tapestry"
(229) Medium: "Scientists Discover Massive 'Space Hurricane' Above Earth"
(228) Yahoo news: "Swirling mass of plasma raining electrons observed above Earth for first time"
(227) The Tribune: "Huge space hurricane that spun over North Pole years ago just found. How'd we miss it?"
(226) The Charlotte Observer: "Huge space hurricane that spun over North Pole years ago just found. How'd we miss it?"
(225) Bradenton Herald: "Huge space hurricane that spun over North Pole years ago just found. How'd we miss it?"
(224) Belleville News-Democrat: "Huge space hurricane that spun over North Pole years ago just found. How'd we miss it?"
(223) The News Tribune: "Huge space hurricane that spun over North Pole years ago just found. How'd we miss it?"
(222) The Modesto Bee: "Huge space hurricane that spun over North Pole years ago just found. How'd we miss it?"
(221) The News&Observer: "Huge space hurricane that spun over North Pole years ago just found. How'd we miss it?"
(220) The Bellingham Herald: "Huge space hurricane that spun over North Pole years ago just found. How'd we miss it?"
(219) Ledger-Enquirer: "Huge space hurricane that spun over North Pole years ago just found. How'd we miss it?"
(218) The Sacramento Bee: "Huge space hurricane that spun over North Pole years ago just found. How'd we miss it?"
(217) The Herald: "Huge space hurricane that spun over North Pole years ago just found. How'd we miss it?"
(216) CentreDailyTimes: "Huge space hurricane that spun over North Pole years ago just found. How'd we miss it?"
(215) The Telegraph: "Huge space hurricane that spun over North Pole years ago just found. How'd we miss it?"
(214) Merced Sun-Star: "Huge space hurricane that spun over North Pole years ago just found. How'd we miss it?"
(213) The Wichita Eagle: "Huge space hurricane that spun over North Pole years ago just found. How'd we miss it?"
(212) Tri-City Herald: "Huge space hurricane that spun over North Pole years ago just found. How'd we miss it?"
(211) The Island Packet: "Huge space hurricane that spun over North Pole years ago just found. How'd we miss it?"
(210) Idaho Statesman: "Huge space hurricane that spun over North Pole years ago just found. How'd we miss it?"
(209) The Olympian: "Huge space hurricane that spun over North Pole years ago just found. How'd we miss it?"
(208) The Fresno Bee: "Huge space hurricane that spun over North Pole years ago just found. How'd we miss it?"
(207) Fort Worth Star-Telegram: "Huge space hurricane that spun over North Pole years ago just found. How'd we miss it?"
(206) Herald Leader: "Huge space hurricane that spun over North Pole years ago just found. How'd we miss it?"
(205) Sun Herald: "Huge space hurricane that spun over North Pole years ago just found. How'd we miss it?"
(204) MyrtleBeachOnline: "Huge space hurricane that spun over North Pole years ago just found. How'd we miss it?"
(202) La Voz De Casiz: "

Observan por primera vez un huracán espacial sobre el Polo Norte

"
(200) ABCdesevilla: "

Observan por primera vez un huracán espacial sobre el Polo Norte

"
(199) AryNews: "

Scientists discover first space hurricane above Earth

"
(197) CanalTech: "Furacão espacial é observado acima do Polo Norte pela primeira vez"
(195) Mtv uutiset: "Pohjoisnavan yläpuolella riehui voimakas plasma-ilmiö: Tutkimus vahvistaa "avaruushurrikaanin" olemassaolon"
(194) Yahoo news: "Scientists Discover 'Space Hurricane' High Above The Earth"
(192) OlharDigital: "Furacão espacial é detectado pela primeira vez; entenda"
(191) MSN: "Weltraum-Hurrikan tobte über dem Nordpol"
(190) InlandNewsToday: "Space 'hurricane' rains electrons"
(189) dailyhunt: "Scientists detect 1,000 km space hurricane in Earth's lower atmosphere over North Pole"
(188) BOL Noticias: "O furacão espacial detectado pela 1ª vez na Terra"
(187) Infosurhoy: "Space Hurricane Observed Over the Earth for the First Time"
(186) DailyGeekShow: "Détection du tout premier « ouragan spatial » au-dessus du pôle Nord"
(185) Delfi: "Virš Šiaurės ašigalio buvo užfiksuotas pirmasis uraganas kosmose: Žemė gali būti ne vienintelė, kur vyksta tokios audros"
(184) Yahoo!Noticias: "O furacão espacial detectado pela 1ª vez na Terra"
(183) Flipboard: "Invisible 'space hurricane' detected over North Pole for first time"
(182) SOTT: "Astonishing discovery: First-ever 'space hurricane' was observed in upper atmosphere above North Pole in 2014"
(181) News Center Maine: "Space Hurricane (video)"
(180) DailyMotion: "Scientists have spotted a swirling 'space hurricane' above the magnetic north pole"
(179) Republic World: "What Is Space Hurricane? Here Is Everything You Need To Know"
(178) MoneyControl: "Scientists detect 1,000 km space hurricane in Earth's lower atmosphere over North Pole"
(177) NaturalNews: "Scientists discover a "space hurricane" above the North Pole"
(176) GentSide: "Scientists Have Spotted a Swirling 'Space Hurricane'"
(175) WorldTodayNews: "Scientists discover "space hurricane" for the first time"
(174) Archyde: "The discovery of the first "space hurricane" over the North Pole"
(173) Italy24News: "North Pole, first space hurricane observed in the stratosphere"
(172) Verietyinfo: "The space hurricane was observed for the first time!"
(171) CW69Atlanta: "Scientists Have Spotted A Swirling 'Space Hurricane' Above The Magnetic North Pole"
(170) Nevada Public Radio: "Scientists Observe First Ever 'Space Hurricane'"
(169) Newsbeezer: "The space hurricane was first discovered on Earth"
(168) SG Talk: "

Invisible 'space hurricane' detected over North Pole for first time

"
(167) Newsbreak: "A space hurricane is observed for the first time!"
(166) MundoHispanico: "A space hurricane is seen for the first time in history"
(165) UnfoldTimes: "Scientists Discover 'Space Hurricane' High Above The Earth"
(164) The Shepherd of the Hills Gazette: "First-ever 'area hurricane' detected over the North Pole"
(163) MSN – space.com: "First-ever 'space hurricane' detected over the North Pole"
(162) Time24News: "Space hurricane rains electrons on Earth"
(161) The Irish News: "Proving existence of space hurricanes 'is incredible', says scientist"
(160) DE24News: ""Really unbelievable": Cyclone discovered in space for the first time"
(159) Inverse: "'Space hurricane:' Why March is a wild month for space weather"
(158) Before it's news: "'Space Hurricane' in Earth's Discovered in Earth's Upper Atmosphere"
(157) Kontrast1: "Rom orkan observert for første gang"
(156) Nettnord: "'Rom-orkan' oppdaget over Nordpolen, finner studien"
(155) SpaceRef: "Space Hurricane Observed For The First Time"
(154) WLRN: "Scientists Observe First Ever 'Space Hurricane'"
(153) JustTheNews: "Scientists observe 'first known space hurricane' raining electrons down on Earth"
(152) HNA: "Weltraum-Hurrikan über magnetischem Nordpol entdeckt: Wirbel lässt Solar-Teilchen regnen"
(151) Merkur: "Weltraum-Hurrikan über magnetischem Nordpol entdeckt: Wirbel lässt Solar-Teilchen regnen"
(150) Newsbeezer: "'Rom-orkan' oppdaget over Nordpolen, finner studien"
(149) TheIndianWire: "First space hurricane observed on Earth's North pole, showering electron rain"
(147) SciNews: "Researchers Observe 'Space Hurricane' in Earth's Ionosphere"
(145) Apsari: "A event called a 'Space hurricane' has been mapped by scientists for the first time."
(144) OlharDigital: "Space hurricane is detected for the first time; understand"
(143) EuroWeekly: "Stunning Space Hurricane Discovered Swirling over the North Pole"
(142) Newsdol: "Studie finner 'rom-orkan' over Nordpolen"
(141) TimesNowNews: "Scientists discover Earth was hit by a wild space hurricane that rained electrons over Earth in 2014"
(140) Miami Herald: "Huge space hurricane that spun over North Pole years ago just found. How'd we miss it?"
(139) ThePrint: "Scientists observe 'space hurricane' over North Pole that spanned 1,000 km, swirled for 8 hrs"
(138) Rock101: "Massive 'space hurricane' discovered swirling over the North Pole"
(137) boom1019: "Massive 'space hurricane' discovered swirling over the North Pole"
(136) Vamu: "Scientists Observe First Ever 'Space Hurricane'"
(135) SlashGear: "Space hurricane discovered in observation data from 2014"
(134) IndyStar: "Scientists confirm a 'space hurricane' hovered above the North Pole for about 8 hours"
(133) Nerdist: "Space Hurricanes Are Now Part of Life's Grand Tapestry"
(132) Space: "First-ever 'space hurricane' detected over the North Pole"
(131) News4Jax: "Green space hurricane confirmed over North Pole"
(130) MashableIndia: "Scientists Spotted A 'Space Hurricane' Above Earth For The First Time Ever!"
(128) WION: "Scientists confirm existence of space hurricanes"
(127) PennLive: "Space hurricane is confirmed for the first time at Earth's North Pole"
(126) EurekAlert: "Space hurricane observed for the first time"
(124) Weatherboy: "Electron Downpour: Space Hurricane Impacts Earth"
(123) WSFA12News: "A 'space hurricane' has been confirmed to have existed over Earth"
(122) TheWeek: "'Space hurricane' spotted above Earth for the first time"
(121) Newsbeezer: "A space hurricane has been observed for the first time!"
(120) Comicbook: "Scientists Discover First-Ever "Space Hurricane""
(119) TheJerusalemPost: "Invisible 'space hurricane' detected over North Pole for first time"
(118) Stars-and-Stripes: "Massive 'space hurricane' captured spinning over Earth for the first time"
(117) Smithsonianmag: "First Ever Space Hurricane Spotted in Earth's Upper Atmosphere"
(116) TvEyes: "KCUR-FM – Kansas City, MO (radio)"
(115) NewsMiner: "Massive 'space hurricane' captured spinning over Earth for the first time"
(114) Jioforme: "Scientists Discover "Space Hurricane" Over Earth"
(113) Archyde: "What a space hurricane looks like, the spectacular phenomenon detected for the first time on
(112) PieceBusiness: "Scientists observe first-ever 'area hurricane' swirling above the North Pole"
(111) AmericanOnlineNews: "Scientists Discover 'Space Hurricane' High Above The Earth – HuffPost"
(110) NewZealandOnlineNews: "First-ever 'space hurricane' detected over the North Pole – Space.com"
(109) BegaOnlineNews: "'Space Hurricane' confirmed to have formed above Earth – Big Think"
(108) NewsNetDaily: "Scientists discover 'space hurricane' above Earth"
(107) SuratBasinOnlineNews: "'Space hurricane' spotted above Earth for the first time – THE WEEK"
(106) WeekdayTimes: "Scientists Discover 'Space Hurricane' High Above The Earth"
(104) NewsTimePaper: "Scientists Discover 'Space Hurricane' High Above The Earth"
(103) WorldNewsBlogger: "Space hurricane raged over the North Pole"
(102) Asteroid News: "First-ever 'space hurricane' detected over the North Pole"
(101) HeadTopics: "Scientists Discover 'Space Hurricane' High Above The Earth"
(099) NewsBreak: "First-ever 'space hurricane' detected over the North Pole"
(098) NewsBeezer: "What a space hurricane looks like, the spectacular phenomenon first discovered on Earth"
(097) MorningPicker: "Years-old 'Space Hurricane' Spotted for the First Time Ever!!! Pics Inside!!!"
(096) Bollyinside: "'Space hurricane' spotted above Earth for the first time"
(095) CurrentAffairs: "Space hurricane"
(094) GoodWordNews: "Scientists discover 'space hurricane' above Earth"
(093) Knowledia: "'Space hurricane' spotted above Earth for the first time"
(092) GKToday: "स्पेस हरिकेन (Space Hurricane) क्या है?"
(091) Knowinsiders: "Space Hurricane: What is it, Where it happens, Most Devastating Region"
(090) Verietyinfo: "Scientists have discovered a "space hurricane" high above the ground"
(089) Flipboard: "Massive 'space hurricane' captured spinning over Earth for the first time"
(088) OlteNews: "Scientists observe very first 'space hurricane' swirling over North Pole – WSLS 10"
(087) NewsBharati: "Scientists discover 'Space Hurricane' over the North Pole"
(086) CountyTimes: "'Space hurricanes' have been discovered by scientists – everything you need to know"
(085) ENN: "Space Hurricane Observed for the First Time"
(084) Mirror: "'Incredible' space hurricanes 600 miles wide discovered swirling above the North Pole"
(083) UK Regional Radio: "BBC Berksire"
(082) LadBible: "​Scientists Discover First Space Hurricane Over North Pole"
(080) Seattle, WA: "KOMO-AM(radio)"
(079) The Florida Post: "A 'space hurricane' hovered above the North Pole for about 8 hours, study says"
(078) Space Daily: "

Space hurricane observed for the first time

"
(077) Yahoo news: "Scientists spotted a 'space hurricane' swirling above the magnetic north pole. It was raining charged solar particles."
(076) Tech Times: "First-Ever 'Space Hurricane' Spotted in North Pole: GPS Satellites in Possible Danger"
(075) EurasiaReview: "Space Hurricane Observed For First Time"
(072) The National News: "Space hurricane that 'rained' electrons discovered swirling above North Pole"
(071) UK Regional TV: "Good Morning Britain"
(068) Daily Star: "First ever space hurricane which rains electrons found by scientists above Earth"
(067) IndiaToday: "In a first, space hurricane detected over North Pole. It swirled for 8 hours"
(066) Washington Examiner: "'Space hurricane' 600 miles wide discovered over North Pole, scientists say"
(065) Evening Standard: "'Incredible' space hurricanes discovered swirling above the North Pole"
(063) abc30ActionNews: "Scientists reveal first-ever evidence of a 'space hurricane' above North Pole"
(062) Weather: "New Planetary Phenomenon Alert: 'Space Hurricane' Detected for the First Time Over North Pole"
(060) RepublicWorld: "Scientists Confirm Existence Of Space Hurricanes For The First Time In Earth's Atmosphere"
(059) Daily Mail: "First space hurricane is confirmed over the North Pole following observations of a 621-mile swirling mass of plasma that rained electrons in Earth's upper atmosphere"
(058) The Weather Network: "Sprawling 'space hurricane' detected in Earth's upper atmosphere"
(057) Tech2: "Space hurricane in 2014 'rained electrons' from a plasma cyclone in the upper atmosphere: Study"
(056) New York Post: "'Space hurricane' spotted above Earth for the first time ever"
(055) Dagbladet: "Oppdaget rom-orkan"
(054) NRK P2: "Rom-orkan over Nordpolen" (

radio

)
(053) Svalbardposten: "Historisk rom-orkan"
(052) FOX35Orlando: "'Space hurricane' discovered above Earth for the first time ever"
(051) International Business Times: "What's A Space Hurricane? Researchers Observe The Phenomenon For The First Time"
(050) UNIS: "A Space Hurricane Observed for the First Time"
(049) InsideEdition: "Space Hurricane Spanning 600 Miles Captured Hovering Over Earth in 1st Sighting of Its Kind"
(048) ClickOrlando: "Scientists observe 'space hurricane' swirling above Earth for first time"
(047) EyewitnessNews: "Scientists reveal first-ever evidence of a 'space hurricane' above North Pole"
(046) The Kansas City Star: "Huge space hurricane that spun over North Pole years ago just found. How'd we miss it?"
(045) matzav.com: "'Space Hurricane' Spotted Above Earth For The First Time Ever"
(044) ZME Science: "Space hurricane detected over the North Pole for the first time"
(042) abc13EyewitnessNews: "Scientists reveal first-ever evidence of a 'space hurricane' above North Pole"
(041) OrlandoSentinel: "Massive 'space hurricane' captured spinning over Earth for the first time"
(039) TheBusinessStandard: "Space hurricane which rains electrons instead of water discovered by scientists"
(038) ScienceAlert: "For The First Time, A 'Space Hurricane' Has Been Detected Over The North Pole"
(037) BusinessInsider: "Scientists spotted a 'space hurricane' swirling above the magnetic north pole. It was raining charged solar particles."
(036) AccuWeather: "Scientists reveal first-ever evidence of a 'space hurricane'"
(035) Euronews: "'Incredible' space hurricane over the North Pole caught on camera for the first time"
(033) The Hill: "'Space hurricane' seen hovering above Earth for the first time ever"
(032) Interesting engineering: "Space Hurricane Observed Above the North Pole for the First Time"
(031) NewsChain: "Proving existence of space hurricanes 'is incredible', says scientist"
(030) New Atlas: "Plasma "space hurricane" detected over Earth for first time"
(029) Science Focus: "'Space hurricane' observed above the North Pole"
(027) Global News: "Massive 'space hurricane' discovered swirling over the North Pole"
(026) InnovationsReport: "Space hurricane observed for the first time"
(025) LiveScience: "First-ever 'space hurricane' detected over the North Pole"
(024) CTVNews: "Scientists discover first space hurricane above Earth"
(023) NewsWise: "Space hurricane observed for the first time"
(022) ScienceDaily: "'Space hurricane' in Earth's upper atmosphere discovered"
(021) 20minuten: "Erstmals Wirbelsturm im Weltraum entdeckt"
(019) IGNnordic: "A Space Hurricane Above the North Pole Was Raining Charged Electrons"
(018) InovacaoTecnologica: "Descoberto ciclone espacial fazendo chover elétrons sobre a Terra"
(017) Time24News: "Northern Lights research – Discovered space hurricane"
(016) Medium: "Space Hurricane Seen for First Time"
(015) GKToday: "What is Space Hurricane?"
(014) MuyInteresante: "Observan por primera vez un huracán espacial (y es impresionante)"
(013) L'essentiel: "Erstmals Wirbelsturm im Weltraum entdeckt"
(012) Newsje: "(해외환경뉴스) 처음으로 관측된 우주의 허리케인..행성과 우주 사이의 새로운 빛"
(011) Business Insider South Africa: "Scientists spotted 'space hurricane' above magnetic north pole. It rained charged solar particles"
(010) polarkreisportal: "Erster Space Hurricane über dem Nordpolargebiet beobachtet"
(009) University of Reading: "Space hurricane observed for the first time"
(008) Icepeople.net: "SPACE HURRICANE: First observation of super storm in polar ionosphere revealed in study co-authored by UNIS researchers"
(006) Popculture: "North Pole 'Space Hurricane' Spotted Above Earth"
(004) DesMoines: "Scientists confirm a 'space hurricane' hovered above the North Pole for about 8 hours"
(003) GiantFreakinRobot: "A Space Hurricane Is Now Something That Exists"
(002) DailyFly: "Scientists Confirm they Observed a Plasma Space Hurricane Above the North Pole in 2014"
(001) BoingBoing: "Space Hurricane spotted over the North Pole"