Mark Moldwin and Patty Hogan enjoy the beautiful city of Bergen.
In the beginning of February this year, the U.S. Department of State and the J. William Fulbright Foreign Scholarship Board announced that Prof. Mark Moldwin from the University of Michigan had been selected as the Fulbright Artic Chair for 2019-2020. This prestigious grant is only awarded to one U.S. scholar each year and provides a three to four month grant to do research and lecture at any institution of higher education or research in Norway.
Prof. Moldwin conducts space physics research to understand the flow of energy, mass and momentum from the Sun through the Earth's space environment. This fall, he has been spending his Fulbright Artic Chair here at the Birkeland Centre for Space Science (BCSS). Mark Moldwin and his wife (Patty Hogan) arrived on August 15, and they will stay in Bergen until December 1. "The Arctic Chair is designed for a 3-4 month stay, so our 3.5 month visit has enabled us to see late summer, through fall and into early winter in Bergen", Moldwin says.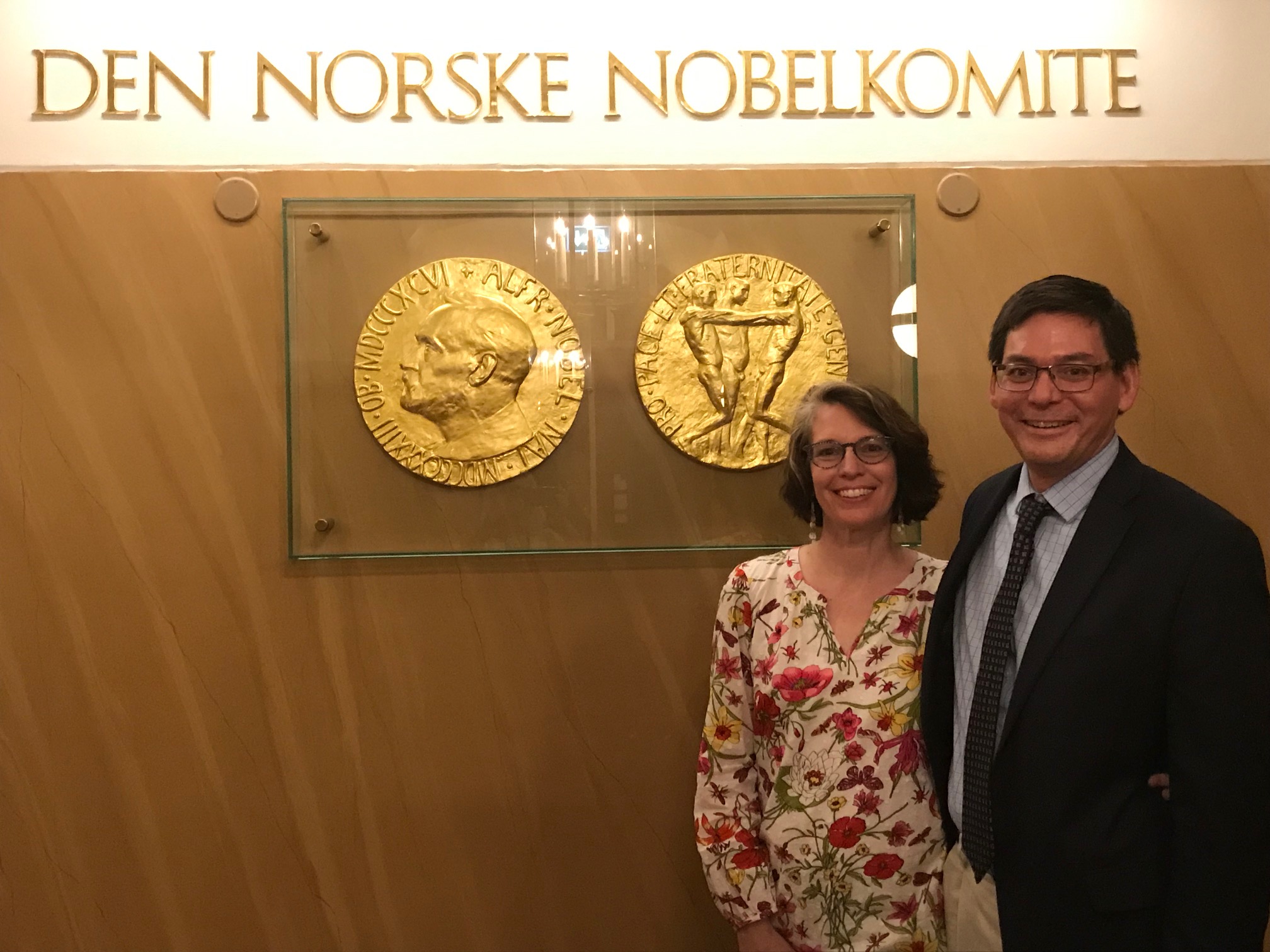 Prof. Mark Moldwin and his wife Patty Hogan at the Fulbright Award Ceremony at the Nobel Institute in Oslo.
Working at BCSS
Working at BCSS has allowed Moldwin to probe the fine-scale structure of Birkeland-currents, combining ground and space-based data with modelling: "My main research collaborations have been within Michael Hesse's group and I am beginning to work with Norah Kwagala on understanding the different current contributions to magnetic signatures observed by ground-based magnetometers. Norah is using the University of Michigan Space Weather Modeling Framework's MHD model to separate the different current systems within the model to better understand the actual signal, which is a superposition of different currents. We hope to have her work with a current PhD student at the UM on a project examining small-scale transient signatures".
The unique lunch room
Mark Moldwin gives high praise to the social component at the Birkeland Centre: "One thing that I have appreciated very much is the opportunity to get to know students, researchers, staff and faculty over lunch, dinners and social events. The lunch room at BCSS is unique in my experience by having students, post-docs, researchers, staff, visitors, faculty and emeriti around the table on any given day".
Fruitful meetings
In addition to working with the group located in Bergen, Prof. Moldwin has also had the opportunity to meet with other researchers affiliated with BCSS: "I had several conversations with Stein Haaland – at the International Conference on Substorms (ICS-14) in Tromsø in October and during his visit to Bergen this month – regarding small-scale structure of magnetic field signatures. Also, I had several discussions with Jesper Gjerloev during his visit to Bergen about developing the infrastructure to make distributed (on the ground and space) networks of magnetometers".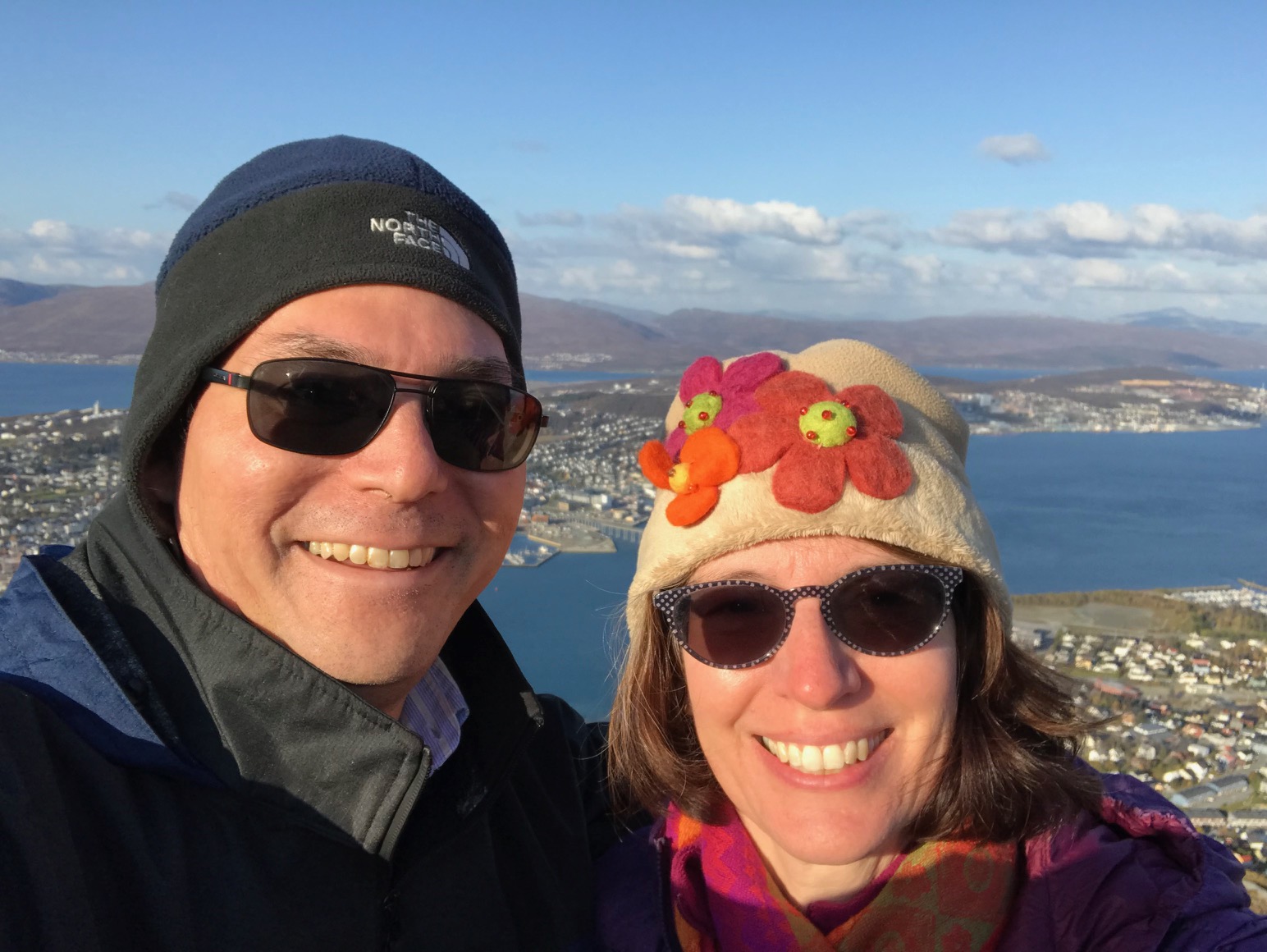 Mark Moldwin and Patty Hogan enjoy the beautiful scenery in Northern Norway during the International Conference on Substorms (ICS-14) in Tromsø.
Programs that promote inclusion
In addition to research, Mark Moldwin's Fulbright Artic Chair grant also includes discussions of inclusive and active learning. One of the major issues facing science is the exclusion of women and other groups through discrimination and harassment. An objective for Prof. Moldwin has therefore been to learn more about programs at the University of Bergen that promote inclusion: "I learned quite a bit about Norwegian social programs that promote two-career families from colleagues at the Fulbright program and Prof Alexander Bielicki from the University of Oslo (who studies the Norwegian welfare state) during my trips to Oslo. Much of the difference in the gender balance of academic leadership can be traced to the vast differences in family leave policies around childbirth and financial support for early-age kindergarten from age 1-5. The US does not have any federal laws or support for early career faculty regarding paid family leave or subsidized childcare. In fact the University of Michigan just this year added the benefit of paid family (maternity) leave (only 6 weeks). In addition, the more balanced academic workload that I observed at the University of Bergen, compared to my experiences in the US, also encourages dual career families even if the household and child rearing still falls within the traditional gendered roles. At BCSS the hallways are generally quiet by 4pm, whereas in the US it is not surprising to have meetings scheduled at 5pm."

Mark Moldwin and colleagues from the Birkeland Centre for Space Science at a University cabin at Ustaoset.
The beautiful aurora
In midst of all the research, Mark Moldwin and his wife have found time to enjoy some great Norwegian scenery, including the beautiful aurora: "We took Hurtigruten from Bergen to Tromsø and were able to see a dynamic display of aurora from the boat near Rørvik. Patty and I are alumni of the University of Alaska – Fairbanks, which lies under the middle of the "statistical" auroral oval (similar auroral latitude of Tromsø) so we have had our share of aurora. It is much more rare in Michigan – usually once or twice a year – but I have not seen it in Michigan in many years".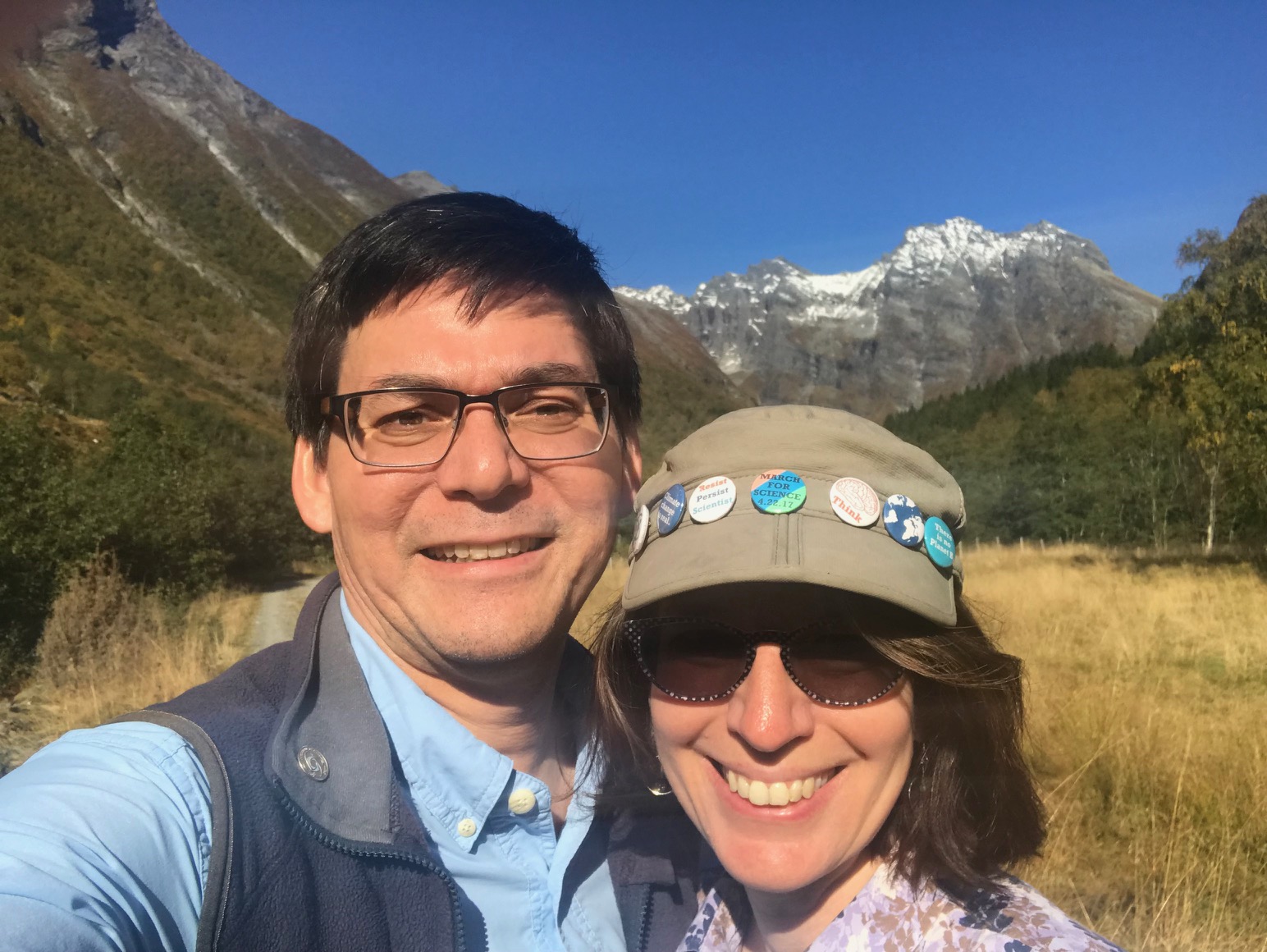 Mark Moldwin and Patty Hogan visiting Urke.
Hiking in Bergen
Mark Moldwin also notes that his time in Bergen has gotten him in better shape: "I've lost over 5 kg since arriving in Bergen and it is because the mountains are just a few minutes away from my doorstep. We are living in the Nordnes neighborhood near the fish market so I walk up to Fløyen, to Ulriken or Stoltzekleiven every weekend and usually explore the trails. My longest hike was 25.5 km (Nordnes to Ulriken via Sherpatrappa, the Vidden trail to Fløyen, and then back home). Patty and I also have been walking quite a bit exploring the city. It is fantastic not having to drive a car for shopping, going out or getting to campus. I walk to work back in Ann Arbor but there aren't mountains outside our door".