Photo: Øyvind Ganesh Eknes
After an unnerving and impressive competition among 10 PhD candidates, our own Josephine Salice became this year's winner of the prestigious Researcher's Grand Prix 2022. "When they (ref: judges) announced my name as the winner, I initially was surprised, and then I just became very happy, feeling a big smile spread across my face" Josephine says.
Researcher's Grand Prix is a competition in how to perform public outreach, and in the first round each participant were given four minutes to excite the audience and the judges. Then their presentation was given a score by both the audience and the referees, and the three students with the highest points would advance to the final.
In her presentation during the first round, Josephine gave an insight into how the same processes that create the northern lights can affect climate. As shown by the image below, all judges loved her talk and gave her the top dice-score of 6 points each, cementing Josephine's place as one of three contenders in the final.
Josephine followed up with another masterclass of public outreach in the final round, where she literally brought the audience up in space. Once again all three judges scored her performance with 6 points each, in which ultimately resulted in a well deserved victory.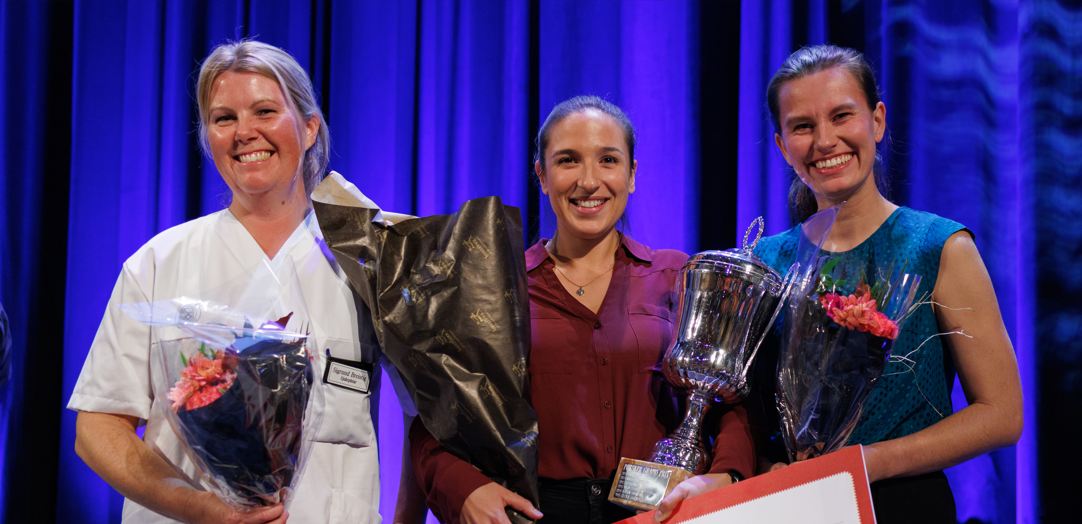 As the winner of Researcher's Grand Prix, Josephine received a trophy as well as 5000,- NOK. In addition to the great honour such a victory encompasses. "I want to thank everyone that cheered me on, and that supported me both before and during the competition. A special thanks to all the participants that made the experience truly memorable" Josephine says.