A highlight during the annual Research Days in Bergen is the prestigious Researcher's Grand Prix, where 10 researchers are given four minutes each to engage the audience and judges in their research area of expertise. Among this years participants we have our own PhD candidate Josephine Salice from BCSS, and her presentation will give an insight into how the same processes that create the northern lights can affect climate. The big event will take place next Wednesday on September 28 in Mimes Brønn, the largest auditorium and cultural scene at Western Norway University of Applied Sciences (HVL) in Campus Bergen, Kronstad. Read more here (only in Norwegian). For those of you who want to watch from home – go HERE for a streaming of the whole event!
When asked why she chose to be part of the Reseracher's Grand Prix 2022, Josephine explains: "That's because I want to share some of Norway's contributions to space physics with its citizens. Space physics is big in Norway, and I want people to be a part of it. I also want to challenge myself, and what better place to do that than live on TV? I have always found presentations a bit stressful, so hopefully, this experience will make me more confident in my presentation abilities".
For the last six weeks, Josephine has been working on her presentations every day. Note: Presentations in plural, because the three best partcipants in the first round will advance to a final round, meaning Josephine should have some extra material to mesmerize the viewers when the winner is to be decided.
"A victory would be great of course, but to be honest I participate basically to gain experience and to challenge myself. I mostly hope to make it to the final round so that I can present my second presentation. I think people will really enjoy it as I take them on a journey in space".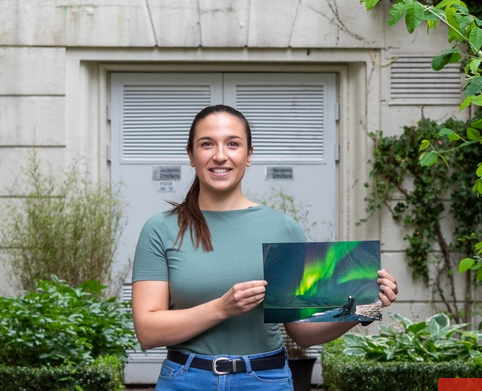 Josephine didn't know any of the other participants before starting on this outreach adventure, but after meeting them several times in recent months, she has grown fond of every single one: "I just wish them all the best in the upcoming event", she says.
Also, Josephine is very grateful for all the help she has received at BCSS  from everyone who has listened to her presentations and given her valuable feedback. A special thanks to supervisor Hilde Nesse Tyssøy and fellow PhDs Jone Edvartsen and Chris Skeie.
---